Where do I put my wind harp for the best sound?
Characteristics of an optimal site:
A location that has access to a steady even breeze which is typically a open space. Optimal wind speed for the wind harp is 8-15 mph. It is unrealistic to expect the wind harp to sing all the time because wind patterns are constantly dynamic and changing no matter where you may choose the site.
A location that does not have loud competing ambient noise such as highway traffic or heavy machinery.
A location that has a slight rise in elevation above the surrounding area to provide greater access to available breezes. i.e. a deck or balcony
Areas that you have a great view of the harp
How do I care for my wind harp?
These wind harps are fabricated out of titanium, stainless steel or alloy aluminum  with either a natural metal or powder coated baked on finish. This powder coated finish is very durable in the most severe weather conditions and is very low maintenance.
To clean the wind harp, simply use a damp cloth with a mild detergent like Simple Green or wipe down with Windex. To remove water or mineral stains, use vinegar .
The life span of the nylon strings is approximately 2-3 years depending on the exposure to direct UV sunlight.
The nylon strings will eventually become brittle and break under tension at which time you can follow the instructions to replace the strings in the Maintenance Manual which accompanies each wind harp. 
We sell replacement strings here on our website.
Do you offer a guarantee?
Harmony Wind Harps Warranty
Our Outdoor Wind Harps and Bells are designed for durability and longevity. We are confident that they will withstand all types of normal weather conditions and can be enjoyed by one and all.
All Harmony Wind Harps (HWH) and Bell instruments are built to the highest quality and our warranty provides that our products will be delivered free of defects in manufacturing and material.
Warranty begins on date of shipment. If any failures in manufacturing or materials occur within the applicable warranty period, HWH will provide replacement parts or products as determined by HWH within 30 days after written notification.
All HWH products carry a 2-year limited warranty on all standard/ stock instruments. All custom instruments carry a 90-day warranty.
This warranty is valid for purchases on or after Sept 1, 2017.
This warranty is valid only if the mounting/assembly and ground/foundation works are carried out as described in the Installation Instructions of your HWH products suggested installation guidelines and maintained according to the maintenance instructions provided by HWH. For all warranty issues it is the responsibility of the customer to cover all shipping costs, to and from the HWH studio in Pagosa Springs CO. For warranty items. HWH will not be responsible for providing labor or labor costs for the replacement of products or parts.
All replacement parts ( extra strings, tuning pins) will be covered for the duration of the original warranty.
All products must be inspected immediately upon arrival. It is your responsibility to note any shipping damage and  you must report any damage within 48 hours of delivery to Harmony Wind Harps. Damage not reported within this time frame cannot be covered under warranty.
HWH cannot warrant against:
Theft, vandalism, misuse, negligence or accident. Scratches on paint, aluminum, or any natural or powder coated finishes. Cosmetic issues of wear and tear from normal use.
Soundscapes International Inc. makes no guarantees either written or implied as to the quality or duration of the sound generated by the wind harp because this is totally dependent upon the site chosen for installation, which is the full responsibility of the customer. The purchaser assumes all responsibility of ownership, use, abuse, care and liability.
I'm interested in a custom wind harp
Harmony Wind Harps is happy to provide custom, site specific wind harp designs for public and private settings. Learn more on our Custom Wind Harps page.
What if my strings break?
We offer replacement parts, including tuners, extra strings and tuning pins for purchase in our online store. Just choose the harp you have and navigate to the Replacement Parts tab.
Your wind harp will arrive with two extra sets of strings and a maintenance manual with specific instructions that walk you through the replacement and tuning of your wind harp strings.

Stringing
In the event that a string breaks, simply insert a new nylon string into the hole in the string bridge and tie a knot as shown in the picture for the nylon string.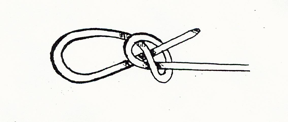 Now pull the string up through the bridge, until the knot seats itself just behind the bridge plate. Insert the string through the tuning pin and pull taught, and then begin to turn the tuning pin using the tuning wrench in a clockwise direction until desired tension is achieved.
NOTE: New nylon strings will need to be initially tightened 1-2 times in the first week to allow for initial stretching. This will balance out once the nylon strings "stretch out" and equilibrate with the tension placed on them.
The strings may need to be periodically tightened over time. If you notice that the sensitivity of the wind harp is compromised due to loose strings then follow the  tuning protocol for your harp. Suggestion: 1x per 2 weeks for the first month, then 1x for the next 3 months , then 1x every 6 months.
Save
Save
How do I tune or silence my wind harp?
Tuning  your wind harp is easily done with the tuning wrench and chromatic tuner that accompanies the harp in the Maintenance Manual.
There is a suggested tuning that is recommended for each harp in the maintenance manual that will optimize the sensitivity and volume of the wind harp in most wind conditions.
Tuning Pin Adjustment
To adjust the tuning pins simply insert the 3/16" T-handle Allen key into the tuning pin and turn clockwise until the desired tension/note is achieved. If the tuning pin (over time) begins to slip just tighten the 7/16" nut a very small amount while keeping the pin stationary with the T-handle wrench.
Note: over tightening the strings will cause them to break!
String Dampener

In the event that you experience a seasonal increase of sustained wind currents you may choose to modulate the wind harps sensitivity. This is done by weaving the enclosed wooden string dampener through the strings as shown in the above picture. This will stabilize the strings and prevent them from vibrating from the wind.
How do I set up my wind harp?
The set up and final tuning for each wind harp is outlined in detail in the Maintenance Manual which accompanies every wind harp delivered.  This will include a detailed explanation of how to attach the wind harp to the pedestal as well as how to best install the pedestal to a ground mounting system.Save
Save
What if I want a different base for my wind harp?
Each wind harp is designed with a specific base/pedestal that compliments the height and geometry of the wind harp design. However if you have a specific custom design in mind or unique installation challenge we will be happy to build a pedestal that accommodates your special installation requirement. The wind harps that are currently available with different pedestal options are the Klarion Call I & II series which are shown below.
Klarion Call on Wooden Base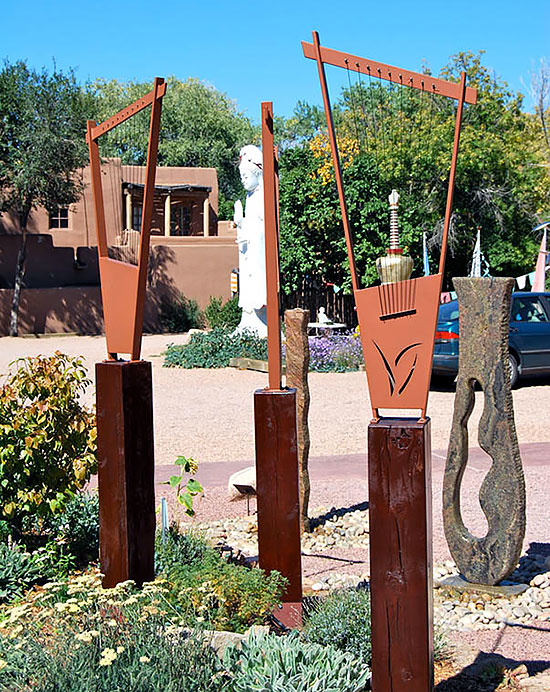 Klarion Call on Weathered Steel Base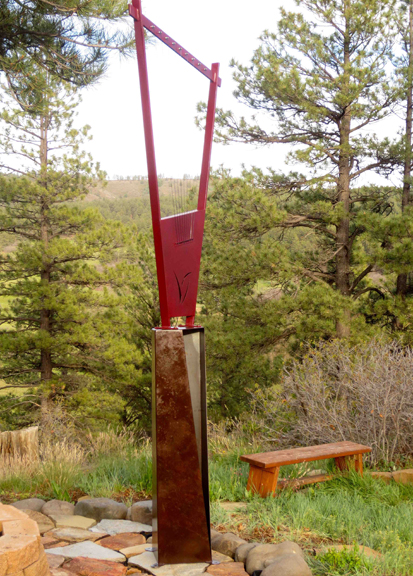 Klarion Call on "L" Style Base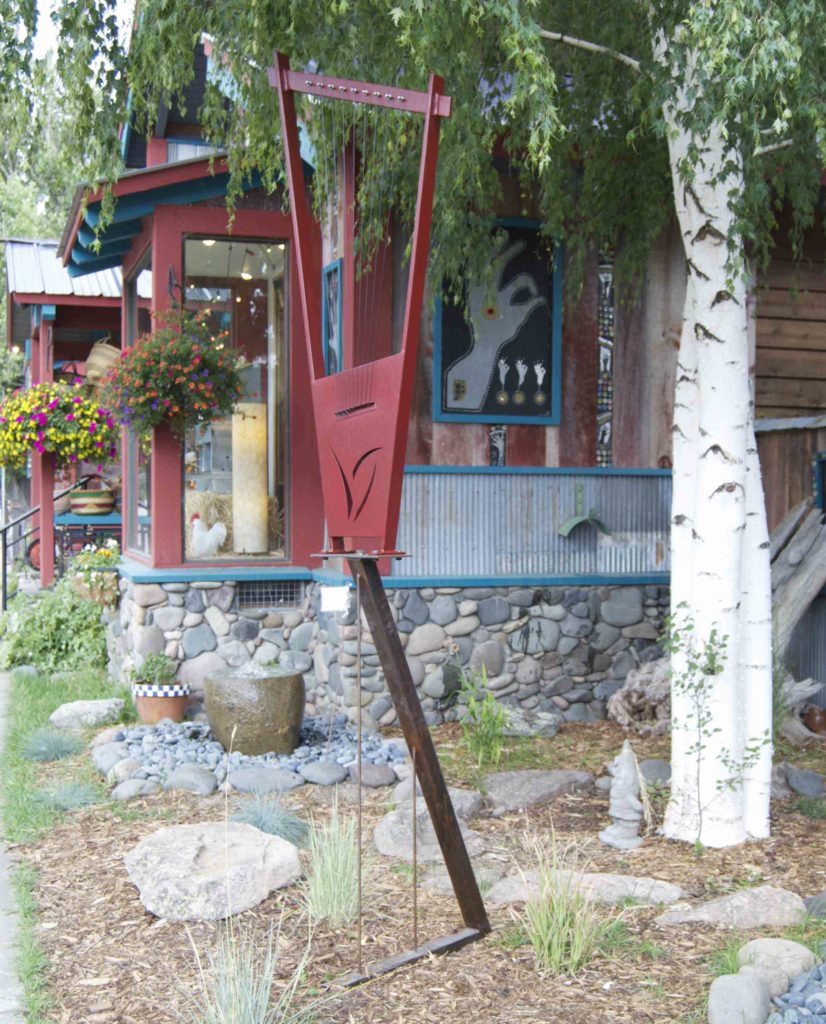 Klarion Call on Basalt Fountain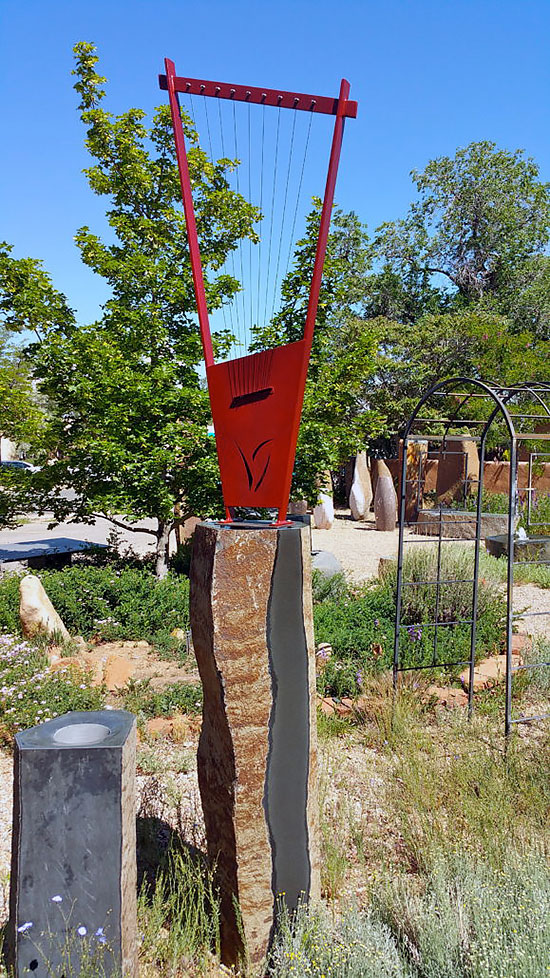 Save
Save
Save
Save
Save
Save
Save
Will rain and snow damage my wind harp?
For the last 24 years, all sound sculptures built by Harmony Wind Harps are fabricated and tested at 7500' in the foothills of the San Juan Mountains, in Colorado.  Our wind harps are impervious to -20 degrees Fahrenheit, freezing weather, pounding rain, sleet, hail, and hot dry summers.
Since all our moving parts on the harps are fabricated from stainless steel or titanium, ice and snow does not damage the strings, tuning mechanism or structural integrity of our instruments.
Are your harps in any stores?
Currently, Harmony Wind Harps are only available in our online store, which come directly from:
Soundscapes International Inc.
PO Box 5242
Pagosa Springs, CO 81147
970-946-5879